One of the best products for all car enthusiasts who are looking for an easy way to cover up any color damages. Or make their car look fancy, for that matter!  Waterproof Authentic Tire Paint Pen can do it all!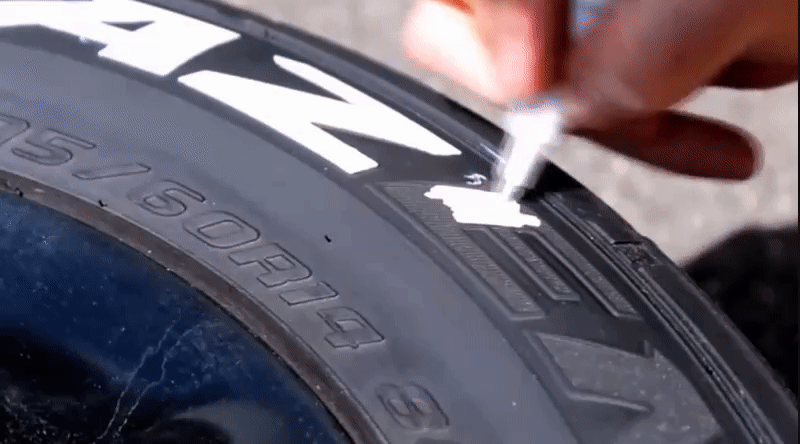 Fixing any scratches can be pricey but there is an easier way to do it in your garage, completely by yourself. This Paint pen is water-resistant, odor free, non-toxic and durable.
This product is so easy to use. Remove the plug, shake the pen and press it against the scratch, until the color comes out. Now you can cover the scratches, or draw something to have unique car tires like no one else does!
5 Steps for Optimal Result:
Clean your tires using a regular car wash soap.
Oil/Grease need to be removed from the tire wall where you want to apply the Tire Paint Pen. The best way to do this is with Acetone, a solvent based cleaner that is available from your local hardware store.
 Step 3 - Get the Authentic Tire Paint Pen Ready.
Give the Tire Paint Pen a good shake, around 30 seconds or so to make sure the paint inside is nice and mixed.
 Step 4 - Prime the Tire Paint Pen.
In order to get the ink flowing, you will need to prime the Tire Paint Pen. Simply use a flat clean surface to press the marker down multiple times until the ink starts to appear. You will need to do this periodically during the process in order to keep consistent and even layer of ink.
 Step 5 - Writing/Applying on the Tires.
Start by outlining the edges of the letters first, before moving to inside. Work letter by letter and after 1 go around of all your tires, the first one should be dry. The ink typically takes 5-10 minutes to dry. Once fully dry, you will want to complete a second coat. We suggest 3 coats of Authentic Tire Paint Pen to get a complete, consistent, and vibrant finish.
Specifications:
Colors:

 

White, Yellow, Red, Purple, Silver, Green, Blue, Black, Gold, Orange, Black, Brown, Pink
Life: 2 years
Type:

 

Oil
What's Included:
1 pc x Authentic Tire Paint Pen